FIRST WOMEN:
1870 first woman to take the matriculation examination: Marie Tschetschulin
1874 dissertation (chemistry, University of Zürich): Lydia Sesemann
1878 Licentiate of Medicine (without being officially enrolled in the University):


Rosina Heikel
1882 Magister of Philosophy: Emma Irene Åström
1895 dissertation in Finland, Doctor of Medicine and Surgery: Karolina Eskelin
1896 Doctor of Philosophy: Tekla Hultin
1903 first dissertation in Finland, Faculty of Science (chemistry):


Signe Malmgren
1906 docent, university teacher: Alma Söderhjelm
1918 Doctor of Veterinary Medicine in Finland and Europe (University of Leipzig):


Agnes Sjöberg
1919 dissertation in pedagogy: Kaino Oksanen
1927 professor (Personal Extraordinary Professor, Åbo Akademi):


Alma Söderhjelm
1927 opponent at dissertation (Faculty of Medicine): Elsa Ryti
1930 professor, University of Helsinki, Professor of Medicine and holder of a permanent


chair (Obstetrics and Gynaecology): Laimi Leidenius
1936 Doctor of Agriculture: Synnöve von Hausen
1938 dissertation in physics: Eugenie Lisitzin
1942 dissertation in Finnish language studies: Eeva Lindén
1946 Doctor of Laws (Justice): Inkeri Anttila
1947 professor in physical and natural sciences (assistant professor of chemistry):


Salli Eskola
1952 Doctor of Theology: Eira Paunu
1955 dissertation in astronomy: Liisi Oterma
1958 dissertation in economics: Vieno Rajaoja
1959 Professor of Pedagogy: Inkeri Vikainen
1958 Doctor in Social Sciences: Elina Haavio-Mannila
1961 Professor of Law: Inkeri Anttila
1964 Professor of Sociology: Faina Jyrkilä
1969 Professor of Philosophy: Raili Kauppi
1991 Professor of Women's Studies: Päivi Setälä
1992 Rector of university (Jyväskylä): Aino Sallinen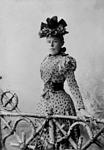 1

2

3
4


1 First Finnish woman to take the matriculation examination in 1870 was Marie Tshetshulin from Helsinki.



2 Emma Irene Åström was 80 years old when she became doctor honoris causa at the University of Helsinki in 1927. University of Helsinki museum.



3 Experiments with pea cultures in Synnöve von Hausen's dissertation.



4 Eira Paunu on a magazine cover, 1952.

Further reading:


Maija Väisänen: "Emma Irene Åström". National Biography of Finland