The fictious forest holding in Hyytiälä is 56.85 hectares in size and comprises naturally and artifially regenerated stands - mostly on mineral soils. It is surrounded by the Texasin rata and the Pilkotun tie roads.
Polygon
that delineates the area - approximately as it was drawn at the 180 m elevation from a non-rectified aerial photo.
Aerial views of the area in
1962
,
1973
and
1985
. The 1985 photo indicates that youngest stands are from realy 1980s. The largest old growth, Kalelan Kuusikko, is in the SE corner.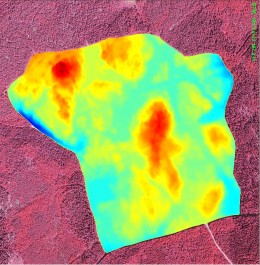 The 2004 sparse LiDAR provided a DTM in 1 m resolution, which is projected here in an aerial view. The DTM is in the orthometric N60 system and ranges from 164.3 to 197.4 m in the study area. The topography guarantees variation in site conditions.