Airborne data sets on MARV4/2 --- LIDAR

LiDAR 2004 - SPARSE
August 5, 2004 - flight documentation
900 m AGL

Point density 0.7 - 2 points per m2 for areas under 1, 2 or 3 strips
1 or 2 returns/echoes per pulse. Minimum range-difference of 4 m
506 MBytes

This data set was processed into a DTM with 1-meter resolution. The accuracy of this DTM has been evaluated to be 0.3 m or better.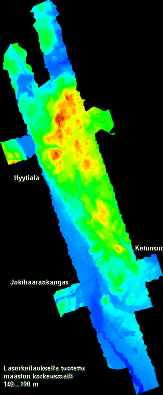 The 2004 LiDAR flight was carried out from an airplane travelling at the speed of 75 m/s. The scanner produced a
zig-zag pattern of pulses
. The scanning angle was ± 20º - from an elevation of 900 m, each 6-km long strip covered a 600-m wide path. Two shorter perpendicular strips were flown - this was needed for establishing the orientation of the data - to remove possible systematic offsets in the orientation of the longer parallel strips.
The figure below gives a sample of the 2004 LiDAR points superimposed in an image pair. The HSV-coloring is scaled from 0 to 20 meters above ground i.e. the terrain elevation has been checked for each point from the DTM before the HSV-color has been determined. The images are 17 x 17 m and the area is under two parallel strips.