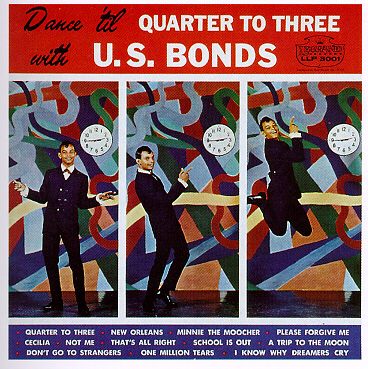 Record Collecting Resources
I don't think I'll ever find the time to annotate every link, but this is nevertheless one of the biggest lists of stuff on the World Wide Web that is of interest to record collectors. If you don't see a listing for your own site, drop me a line and I'll check it out. But please note that I can't (a) value record collections, (b) tell you where to find a buyer for records you want to sell, (c) tell you where to find records you want to buy. Mail displaying ignorance of (a) to (c) will be deleted immediately with a rueful little laugh.
I am sometimes asked whether I can recommend any specific vendors or vouch for their honesty. I don't think I can, but I have nevertheless indicated sellers from which I have ordered things by mail by a blue dot

, while a green dot

indicates stores which I have visited personally. These insignia should not be taken to mean anything other than the fact that these vendors have had at least one satisfied customer.
---
1. Vendors of mostly new records and compact discs, etc. (a selection only)

AB-CD | Ace Records (UK) | Acoustic Sounds | Action Records | Allegro | Alternative Records | American Pie | Beatlefest | The Binaural Source | Boo-Ga-Loo Records | Brave New Vinyl | Busy Kids | cdconnection.com | CD Europe | CDnow! the Internet music store | CDworld | CDZone | Cheap Thrills | Collectors' Choice Music | Columbia House/BMG/CD Headquarters | Contempo Records | Continental Records Company | Cosmos | Dead Dog Records | Derailed Records | Descarga | Digelius Music | Dimar Dischi | Dionysus Records | Disc and Tape | Diverse Vinyl | Dress Circle On-Line | Doo Wop Shoo Bop | Double Time Jazz | Down Home Music | Electric Obiland | Engine Studios | Epe's | Esprit Mail Order | Fast Hits Music | Felch Records | Fennica-Keskus | Fisheye Distribution | Forced Exposure | Formic | German Music Express | Get Hip | Hancock & Monks | Hard To Find Records | HomeRun Records | In Your Ear | Intergalactic Garage | internationalcd.com | Jackpot Records | Jim's Ithaca Music Shop | Jukeboss | Kane Records | Kippers Records | Let It Be Records | Magic Com | Midnight Records | Mike's Country Music Room | Music Boulevard | Music, Heart & Soul | Music Imports | Music Machine | The Musical Offering | Nervous Records | Nitty Gritty | Norton Records | Old-Rock | One World | Opal Music | PastelBlue | Planet Records | Quality Records | Raucous Records | Record Heaven | Record-Rama | Red Lick Records | Rock and Roll Heaven | Rock Toys | Rockgodz | Rockhouse Records | Rockin' World | Roots & Rhythm | Roots CDs & Vinyl | RPM Records | Serendipity Records | Sirens' Song | Sound Wire | Southland CD | Spinning Wax | Stanton Park Records | Total Recall | Triangle Music | Twangsville Productions | Vintage Radio Restorations | Vinyl Ink Records | Vinyl Vaults | Vintage Vinyl | VS Music | Wolfgang Völkel | Whirlin' Disc Records | Whole Lotta CDs | World Wide Music | Worlds Records

2. Vendors of mostly used records and compact discs, etc.

AAA Rare Records | AAARGHH! Records | Mika Aaltonen | Abbey Records | Academy Records & CDs | Ace Video & Music | Ace Records (USA) | Adam's Used Records Emporium | Aeon Music | AirHeads Seattle | The Album Hunter | All Sales Are Vinyl | All-Vinyl Records | AllJazz | Alpha Music Co | Amoeba Music | Annapolis Music | Antique Edison | Antone's Record Store | A-1 Record Finders | Armadillo Music | Around and Around Records | Around the World Music Collectibles | Arrested Decay Music | Ars Nova | Ashwood's Music & Books | ASM Music | Astral Dream Records | Astro's Record World | ATV Service | Au Go Go Records | Audio Music Collectables | Audiophile International | Augies 45RPM Records | Backtrack Records | Glenn A Baker's Timewarp | Michael Bakunin | BBop Records | Beanos | Bear Records | Beat City Records | Beat Behind the Dykes | Beatin' Rhythm | Beatmerchants | beatnickmusic.com | beatroute.co.uk | Beautiful Lies You Could Live In | Beautiful Records | Beggars Road Rare Records | Benedikt & Salmon | Lasse Bengtsson | BENrecords | Birka Jazz | Black and Read | Blackbird Records | Bleecker Bob's | Raimo Blomberg | Blue Devils Vinyl Records | Blue H Vinyl Mail Order | Bluesoterica Archives & Productions | Mykel Board | Bolt Beats | Book Crazy | Alain Bouet | BreakDown Records | British Vinyl Network | B's House of Wax | B'side the C'side | Buck's Vinyl Collectibles | Capeway Cards & Music | Cari & Rari | Carol's Record Rack | Celine Chamberlin | Chapman Records | Edmund Chattoe | Chris's Gramophone Record Emporium | Circle Records | Circular Cellar Records | Circular Sound | CJ's Music & Memorabilia | Brad Clark | Classic 45s | Classic Recordings | A Classical Record | Classical 33 | Bob Clere | Larry Clifton | collectiblerecords.com | Continental Records Company Ltd | Bob Cooper | Neil Corning | The Cosmic Closet | Patrick Costecalde | Country and Related | Perry Cox | Crazy Beat Records | Crazy Diamond | Crisco's Record Works | Peter Crossan | John Cunningham | Johan Dada Vis | D'Antiques | D. C. Schallplatten | La Dame Blanche | Dave's Juke Joint | Dave's Records | Dead Beats | Dead End Records | Debbie League | Peter DeMaio | Jack Diamond Music | Diaz Records | Dimension 7 | Dionysos Records | Discos Zeppelin | Discoverart | Discoveries Music & Books | Discovery Records | Discovery Records (yes, another one!) | Division One | Diwa Records | DN14 Auctions | Doo-Wop Shop | D's Record Crates | Ducksoup | Alex Duncan | Walter Durst | Dusty Groove America | Dustydisks | Eargasm Records | Earth Wave Records | Ecstatic Yod | Eide's Entertainment | Elevate Your Mind | Hank Ellis | Elpees Music | Herman Elzinga | Encore Records | Eronen | Euclid Records | European Record Archive | euroshima.com | Farniente Records | Fat Cat Records & Books | Feathered Apple Records | Feelgood Records | The Finest CDs & LPs | Michael Fishberg | Flipside Records | Flipsville | Foggy Notion | Footlight Records | Forever Vinyl | 45 Archive | 45-rpm.com | 4,000 Holes | 4tunes.com | Full Cyrkle Records | Fun Records | Future Blues Records | Future Visions | Mike Gallaher | Garage 'a Records | GASH Records | Gatefold Records | GDM Records | Gecko Music | Gellborn Records | GEMM | Gene's House of Oldie Records | Gene's Oldies Collection | George Gimarc | Richard Gladden | Eric Goldberg | Golden Apple Comics | Golden Oldies Records | Good Rockin' Tonight | Greg's Grooves | Carl Gresham | Griff's Records | Bill Griggs | Groovy Woovy Records | G's Jazz Inc | Haggle Vinyl | Haku's House of Jump & Rattle | John Hall | Hallberg/Skivfrämjandet | Steven Mark Harris | Hector's Records | Hemisphere | Highway 61 | Hip City Records | Hippie Shake Records | Hirofumi Japan | HMS Records | Hollywood and Vinyl | Hot Platters | House of Wax | Tom Hudgins | iCollect Collectables | Ina-Gadda-Da-Records | Infinity Records | Into the Music | Intoxica! | Irvington Music | Jacklyn Music | Stephen Janci | Jazz House Records | Jazzcollector | Jazzman Records | JBS Records | Jean | John Rask Jensen | Jims Discs | Jinx Records | JLC | John's Boy | Jukka Joutsi | Jukebox Jive | Jukebox Memories | Jump Jump Music | Just Another Dream | Just For The Record | Kashmir Records | KO Records | Marcel Koopman | Rob van Kooten | Krohn's Boulevard Records | Lamar's Records | Erik Lambooy | Land Speed Records | Michael A. Landry | Eddie Large | Last Vestige Music Shop | leatherass.com | Terry Leonard | Leo's Den | Liberty Music | Lifesaver Records | Limestone Records | Lisa's Records | Living Eye Records | London Record Finder | Long Tall Simon's 60s Sounds | Ray Lord | Love Garden Sounds | Alan Lowell | LP & CD Set Sale | lpnow.com | Bjørn Luka | M & L Records and Models | M & S Records | Dag Magnes | Main Street Records | Malibu Records | John Manship | mararecords.com | John Martin | Marv's Oldies | Matt's Records | James Maxwell | Mean Mountain Music | Memories | Memory Lane Records | Metro Music | MG Records | MH Records | Mick's Rare Records | Mikrokosmos | Millenium Records | Aaron Mintz | Mr Bongo | Mr Dangpot | Modern World Records | Craig Moerer | Mole Jazz | Molten Core | Monster Records | Moonhop Records | More Music | Mt Rosalie Records | Moving Records | Volker Mueller | Music & Video Exchange | The Music Baron | The Music Emporium | music-forsale.com | Music Memorabilia | Musical Memories Plus | Musicmania Records & CDs | Nasher's Astounding Music Store | Nauck's Vintage Records | Neighbor Gabor's Records | Netsounds | Netwax | Dan Norman | The North | NVI Classical Records | Off the Record Vinyl | Off the Wall Records | Ohrwaschl Records | Old and Gold Music Store | Old Main Bookshoppe | Oldies Unlimited of Western New York | Olli's Vinyl Store | Only a Northern Song | Original Zone Recordings | Otis Records | Otto's Records | Out of the Past Records | Out on the Floor Records | P & P Records | Paisley Haze | Parker's Records & Comics | Parnassus Records | Bob Pegg Records | Pepperland Music | Performance Records | Pascal Perrault | Pied Piper Records | Emanuele Pinotti | Planet Records | Plastic Passion Records | Platenkoning Records | Platterpus Records | Poca Madre Enterprises | Popparienkeli | popsych.co.uk | Prickly Pair Records | Primeau Music | promusicfind.com | Psych O'Mania Records | Psychedelic Eye Rare Rock Records | Psychotron Records | R & B Records | Paolo & Suzie Radosic | R A M Collectibles | Raised On Rock | Rare Groove Records | Rare Progressive-Hardrock | rare-records.net | rarerecords.com | Rave Up Records | Ray's Records | re-played.com | Reckless Records | The Record Cellar | The Record Collector | Record Emporium | The Record Exchange | The Record Finder | Record Heaven | The Record Hunter | The Record King Bookshop | The Record Lady | Record Time | recordcollecting.com | recordcollector.co.uk | Recordeli | Recordland | Recordorium | Recordpark | The Records Emporium | Records 'n' Radios | Records on the Block | Records Records | Records, Records, Records | ReCycled Music | Red Devil Records | RED Mail Order | Red Trumpet | Reddingtons Rare Records | Refugees Rare Rock Records | Joe Rein | Renaissance Records | Rerun Records | Rezound Rekordz | Joe Ricci | Robert Ritter | Roanoke's Record Room | Rob & Elly's Vinyl Archief | Roberts' Records | Rock 'n Records | Rock Bottom Records | Rock Garden | Rock of Ages | Rock On Records | Rockaway Records | Rockers | Rocking Horse Records | Rogers Record's (sic) | Gerald Romas | Rooky Ricardo's Records | Roy's Record Cave | RPM Records | RPM Records (UK) | S & S Records | salter.co.uk | Arthur Salvatore | Sam's Desert Doo Wops | Sammy's Record Shop | Chris Sanders | Saturn Records | Savvas | 2nd Hand Vinyl | Searchlight Records | Semaphore Records | La Seranne | 7 Inch HeaveN | Shagbag Records | Shangri-La Records | Gary Shook | Sid's Jazz | Sister Ray Records | SL Records | Joel Slotnikoff | Smitty | Smogtown Records | Smokey Joe's Cafe | Solid Viper Records | Some Like It Hotter | Sonic Recollections | Soul Explosion Records | Soulgalaxy | Soundgallery | SoundHawk | Sounds and Pressure | South Street Records | Southside Curt | Speed Limit 45 RPM | Spin That Funky Soul | SpinAuctions | Spindrift Records | Spinna Disc Records | The Spinning Disc | Splash City Records | Michael Stanning | Stardust Vinyl LPs | Starving Artist Records | Steamhead Records | Steve & Ellen | Lars Strömberg | Subliminal Sounds | Surf's Up Collectibles | Surfin's Back Again | Surround Sound Productions | Sweet Memories Record Shops | Ted's Record Room | John Tefteller | Juha Teppana | ThamesWeb Recordings Marketplace | thespacebar | Third Coast Sound Distortions | Martin Thomson | Thornbury-Hall Collections | Thursday's Golden Goodies | Ticket to Ryde Ltd | Time Machine Collectibles | Timewarp Records | Token Records | Jerome Tomko | Tom's Recordland | Tommy's Records | Too North Records | Toon Tunes | Top Records International | Tracks | Tracks in Wax | Trash Palace | Tumbleweed Junction | Tunemaster Collectables | Tunes To Go Records | Turntable Records | 23rd Peter | Twisted Village | Two Ounces of Plastic | Underground Sounds | Uponshop | USA Records | Used-Music Web | Uxoria Records | Greg Vandike | Various Album Invasion | Vax (sic) from Vaxholm | Jaap Veenstra | Velvet Underground Appreciation Society | Venus Records | Vepo Music | Vicious Sloth Collectables | Village Music | Vinal Edge Records | Vintage Vinyl | Vinyl Addiction | Vinyl & Lead | Vinyl Demand | Vinyl Fan | A Vinyl Graveyard | Vinyl Highway | Vinyl Lives | Vinyl Music | Vinyl-Online | The Vinyl Record Shelf | Vinyl Resting Place | Vinyl Revival | Vinyl Shop | Vinyl Tap Records | Vinyl Value | Vinyl Vendors | VinylAttic | VinylPhile | VinylRehab | Vinylsale | Vinylsource Records | Vinylspecialist | VinylWeb | Visual Vinyl | VJM's Jazz & Blues Mart | Waccamaw Books & Records | The Wax Files | The Wax Museum | Way Kool Records | Mark Weber | webvinyl.com | wegotrecords.com | Weird Harold's | Henk Werner | White Light Music | Ken Whitehouse | Paul Wiening | Wilds Sounds | Alan Williams | Neil Wilson | Shaun Wilson | Windys Records | Wonderyears Records | Robert Wolk | Wonderyears Records | Mark Wood | World Collection Service | World Wide Wax | Yesterday & Today Records

3. Individual collectors' sites

George Austen | Åke Banksell | Jeff Bender | Leonard Blanks | Chris Bray | John Bruns | Nick Buckley | Daryl Corbin | Bwana Don | Julian Christou | Sam Coomans | Dave Fairall | Jan-Arne Flatby | Frank | Joe Giorgianni | Alex Gitlin | Jonathan Gladstone | Eric van Gorkom | Mike Gorman | Tim Gracyk | Paul Grebenc | Jurriaan Hage | Christian Hoechner | Craig Houck | Joel Hunt | Jim Hurray | Jyrki Ilva | Jonathan Ironside | Bertil Jøreng | Tapio Keihänen | Frank LaRosa | Tommy Lindgren | Ronald Linthout | Scott MacLean | Mighty John Marshall | Martin Mathis | Chris Mezzolesta | Chuck Miller | Tom Morgan | Denis Moskowitz | Peter Muldavin (Kiddie Record King) | David Nelson | Lazlo Nibble | Brian Phillips | John Politis | Claus Povlsen | Steve Propes | Joe Rein | Randy Riddle | David Schwartz | Tyrone Settlemier | Petri Silmälä | Tom Simon | Saul Smaizys | John Speakman | Tapani Taka | Donald Vaccarino | Francois Vigneau | Tapio Väisänen | The Vinyl Tourist | Rick Williams | Stefan Wirz | Theodric Young | Raimo Öystilä

4. Collectors' associations

Association of Recorded Sound Collections | Birmingham Record Collectors | International Association of Sound and Audiovisual Archives | The Record Collectors Guild | Rock Record Collectors Association | Wolverine Antique Music Society

5. Collecting magazines

DISCoveries | Goldmine (with back issue index by the late Andrew Rogers) | Record Collector

6. Publishers and vendors of collecting-related books

A & R Booksearch | Helter Skelter | The Hot Wacks Press | Birgit Lotz Verlag | Osborne Enterprises | Record Information Services

7. Discographies

Mark Anderson: The Surround Sound Discography | Görgen Antonsson: Prewar Blues & Gospel on Microgroove | Guido van Breda: Tribute to Black Swan & Other Ska Labels | Mike Callahan et al.: Album Discographies [hundreds of labels] | Ernie Clark: Tiny Tim Discography | Charles Corbett: Mamas & Papas On-Line Price Guide | DragonDiscs: Label Listings [classic British singles labels] | John Harp: Audiophile Vinyl Discographies | Piers Hemmingsen: The Capitol 6000 Web Site | International Music Discographies [price guide with 500,000+ entries] | John Kearney: The Immediate Records Homepage | Pier Larson: Discography of 78rpm Malagasy Records | Peter Losin: The Blue Note Label | Peter Losin: The Prestige Labels | Rich Martens: Rich M.'s Discographies | Susan Murray & Jack Hill: RCA Living Stereo Labelography | Bas Möllenkramer: Page One Records | John Panteny: Cliff Richard & The Shadows Worldwide Discography | Paul Spittlehouse: The Red Bird Records Discography | University of Wisconsin Libraries: Cuca Records Database

8. Format-specific sites

Bill Clark's 78rpm page | Gary Herzenstiel's 78rpm page | Don McLaughlin's "Collecting Picture Sleeves" | Tim "Nightcoaster" Murphy's shaped vinyl page | Nugrape Records' 78rpm labels | The Picture Disc Website | Reg Stevens's 45rpm page

9. Collecting the Beatles

Steve Clifford's Beatles Website | Dave Dermon III's Beatles Singles Pages | Naoto Ito's Beatles Collecting Guide of UK Vinyls | Masanori Yokono's Beatles Record Collection

10. Cataloguing programs

CD Czar | Maestro Manager | MusiCat | RECDB | Record Tracker

11. Usenet newsgroups

rec.music.collecting.cd | rec.music.collecting.misc | rec.music.collecting.vinyl | rec.music.marketplace.cd | rec.music.marketplace.misc | rec.music.marketplace.vinyl
---
Last updated: 5 December 2004
Comments to: T P Uschanov (tuschano@cc.helsinki.fi)
Mail: T P Uschanov, Paraistentie 19 A 8, FI-00280 Helsinki 28, Finland, Europe
---