Research
I have studied the effects of measurement errors on statistical research methods as a member of the research group of Social Statistics. Our articles have been published, for example, in Computational Statistics & Data Analysis and Journal of Multivariate Analysis.
More recently I have been involved in developing and documenting an open source version of the Survo software in a form of an R package Muste. Since 2013, it has been called Survo R.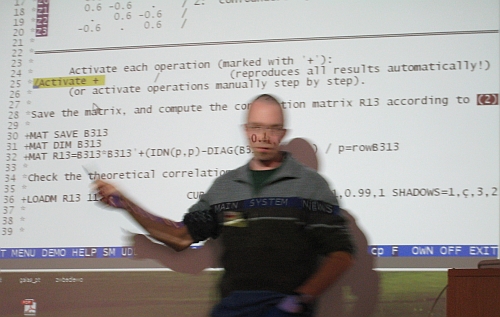 Photo: Antti Liski
In general, I am interested in applied statistics, especially in social and behavioral sciences.
I have participated in the following conferences:
7th International Conference of the ERCIM WG on Computational and Methodological Statistics (Pisa, Italy)
9th International Conference on Teaching Statistics (Flagstaff, USA)
23rd International Workshop on Matrices and Statistics (Ljubljana, Slovenia)
22nd International Workshop on Matrices and Statistics (Toronto, Canada)
59th World Statistics Congress (Hong Kong, China)
joint IASE/IAOS Satellite Conference (Macao, China)
8th International Triennial Calcutta Symposium on Probability and Statistics (Kolkata, India)
6th conference on multidimensional graphical techniques and the analysis of large sets of categorical data; CARME - Correspondence Analysis and Related Methods (Rennes, France)
72nd Annual Meeting of the Psychometric Society (Tokyo, Japan)
16th International Workshop of Matrices and Statistics (Windsor, Canada)
MAT TRIAD-07 (Bedlewo, Poland)
55th Session of the International Statistical Institute (Sydney, Australia)
14th International Workshop on Matrices and Statistics (Auckland, New Zealand)