Vitamin C metabolism during infections
by Harri Hemilä



This text is based on pages 61-62 of

Hemilä (2006)

.

This document has up to date links to documents that are available via the net.

Version May 29, 2012

In guinea pigs, tuberculosis and other infections lead to a decrease in vitamin C concentration in the adrenals and urine (Abbasy et al. 1937a,b; Harris et al. 1937; Birkhaug 1938). In rats, Trypanosoma infection decreased the concentration of reduced vitamin C in spleen and adrenals, and increased the proportion of vitamin C in the oxidized dehydroascorbic acid form (Nyden 1948). In mice, influenza A infection resulted in a decrease in vitamin C concentration in bronchoalveolar lavage fluid, concomitant with an increase in dehydroascorbic acid (Buffinton et al. 1992). In macaque monkeys, malaria caused a reduced vitamin C level in plasma (McKee & Geiman 1946). In cows, intramammary infusion of E. coli (Weiss et al. 2004) and clinical mastitis (Kleczkowski et al. 2005) decreased plasma vitamin C concentration. Furthermore, bacterial toxins cause loss of vitamin C from many tissues (Harde 1934; Lyman & King 1936; Harris et al. 1937; Torrance 1940; Garcia et al. 1990; Rojas et al. 1996; Benito & Bosch 1997; Yamaguchi et al. 1997; Armour et al. 2001; Victor et al. 2002), but one study found an increase in vitamin C level in the livers of mice administered endotoxin (Jeffries 1965).

A large number of studies with human subjects found that vitamin C levels decrease in plasma, leucocytes and urine during various infections, including pneumonia and tuberculosis (Leppo 1939; Banerjee et al. 1940; Sweany et al. 1941; Sinha et al. 1984; Tanzer & Özalp 1993; Hunt et al. 1994; Galley et al. 1996, 1997; Pfitzenmeyer et al. 1997; Plit et al. 1998; Bakaev et al. 2004; for further refs., see Hemilä 1997a; Hemilä & Douglas 1999). Moreover, several reports noted that more severe forms of tuberculosis are more often associated with lower vitamin C levels than milder forms of the disease (Hemilä 1997a).

In the common cold infections, plasma, leukocyte and urine vitamin C levels decrease (Davies et al 1979; for refs., see Hemilä 1992a, 1997a). Hume and Weyers (1973) reported that vitamin C level in leukocytes was reduced to half when their subjects contracted a cold, but the level returned to the original level in about a week after the episode. Vitamin C supplementation (6 g/day) essentially abolished the fall in leukocyte vitamin C level caused by colds (Fig. 1).

Although low vitamin C levels in patients with infections may partly be explained by low dietary intakes, there are several studies in which the dietary intake of vitamin C was comparable between the patients and healthy controls, indicating that low dietary intake cannot be the only cause of low vitamin C levels in the patients with infections (Hemilä 1997a). Increased levels of dehydroascorbic acid have also been reported in patients with various infections, consistent with the notion that vitamin C may be oxidized during infections (Banerjee & Belavady 1953; Chakrabarti & Banerjee 1955).

Endotoxin administration reduced plasma vitamin C concentration in human subjects (Pleiner et al. 2002, 2003), and vitamin C supplementation abolished the exercise-induced increase in plasma endotoxin level (Ashton et al. 2003).



Fig. 1

. The effect of the common cold infection on leucocyte vitamin C level.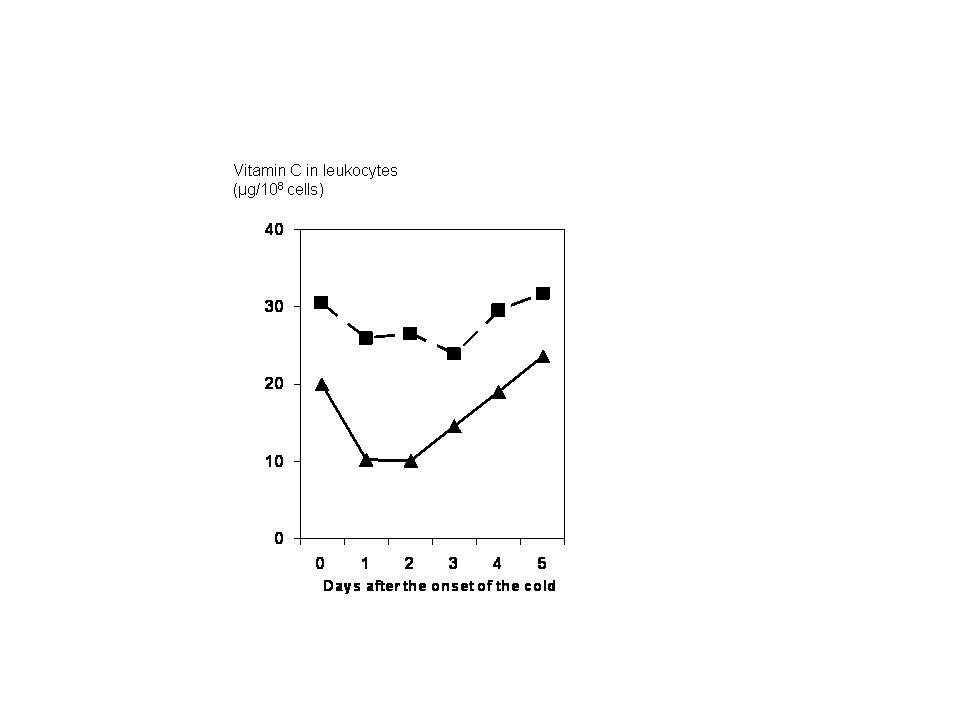 In 7 control participants, the vitamin C level in leucocytes (μg/108 cells) is indicated by triangles. Vitamin C level is indicated by squares in 3 vitamin C participants supplemented regularly with 1 g/day and, after the onset of the cold, with 6 g/day for 3 days, and thereafter with 1 g/day again. Day 0 indicates pre-cold level. The figure is based on tables I and III of Hume & Weyers (1973).



References
NOTE

: All the links in the main text should be freely accessible at least as an abstract, but some links below require a permission from publisher for any access.



Abbasy MA, Harris LJ, Ellman P (1937a) Excretion of vitamin C in pulmonary tuberculosis and in rheumatoid arthritis. Lancet 230:181-3

Abbasy MA, Harris LJ, Hill NG (1937b) Excretion of vitamin C in osteomyelitis. Lancet 230:177-80

Armour J, Tyml K, Lidington D, Wilson JX (2001) Ascorbate prevents microvascular dysfunction in the skeletal muscle of the septic rat. J Appl Physiol 90:795-803

Ashton T, Young IS, Davison GW, et al. (2003) Exercise-induced endotoxemia: effect of ascorbic acid supplementation. Free Rad Biol Med 35:284-91

Bakaev VV, Duntau AP (2004) Ascorbic acid in blood serum of patients with pulmonary tuberculosis and pneumonia. Int J Tuberc Lung Dis 8:263-6

Banerjee S, Belavady B (1953) Dehydroascorbic acid level of blood in health and in typhoid fever. Lancet 262:912-3

Banerjee S, Sen PB, Guha BC (1940) Urinary excretion of combined ascorbic acid in pulmonary tuberculosis. Nature 145:706-7 CH

Benito E, Bosch MA (1997) Impaired phosphatidylcholine biosynthesis and ascorbic acid depletion in lung during lipopolysaccharide-induced endotoxaemia in guinea pigs. Mol Cell Biochem 175:117-23

Birkhaug KE (1938) The role of vitamin C in the pathogenesis of tuberculosis in the guinea pig. Parts I and II. Acta Tuberc Scand 12:89-104.

Buffinton GD, Christen S, Peterhans E, Stocker R (1992) Oxidative stress in lungs of mice infected with influenza A virus. Free Rad Res Commun 16:99-110 PubMed

Chakrabarti B, Banerjee S (1955) Dehydroascorbic acid level in blood of patients suffering from various infectious diseases. Proc Soc Exp Biol Med 88:581-3 BM

Davies JEW, Hughes RE, Jones E, et al. (1979) Metabolism of ascorbic acid in subjects infected with common cold viruses. Biochem Med 21:78-85

Galley HF, Davies MJ, Webster NR (1996) Ascorbyl radical formation in patients with sepsis: effect of ascorbate loading. Free Rad Biol Med 20:139-43

Galley HF, Howdle PD, Walker BE, Webster NR (1997) The effects of intravenous antioxidants in patients with septic shock. Free Rad Biol Med 23:768-74

Garcia R, Abarca S, Municio AM (1990) Adrenal gland function in reversible endotoxic shock. Circ Shock 30:365-74 PubMed

Harde E (1934) Acide ascorbique (vitamine C) et intoxications [in French]. C R Acad Sci 119:618-20

Harris LJ, Passmore R, Oxon BM, et al. (1937) Influence of infection on vitamin C content of the tissues of animals. Lancet 230:183-6

Hemilä H (1992a) Vitamin C and the common cold. Br J Nutr 67:3-16 Manu with links to Refs CH

Hemilä H (1992b) Vitamin C, neutrophils and the symptoms of the common cold [letter]. Pediatr Infect Dis J 11:779 Manu with links to Refs

Hemilä H (1997a) Vitamin C and infectious diseases. In: Vitamin C in Health and Disease [Packer L, Fuchs J, eds]. NY: Marcel Dekker. pp 471-503

Hemilä H, Douglas RM (1999) Vitamin C and acute respiratory infections. Int J Tuberc Lung Dis 3:756-61 CH

Hume R, Weyers E (1973) Changes in leucocyte ascorbic acid during the common cold. Scott Med J 18:3-7 * editorial: Pauling (1973)

Hunt C, Chakravorty NK, Annan G, et al. (1994) The clinical effects of vitamin C supplementation in elderly hospitalised patients with acute respiratory infections. Int J Vitam Nutr Res 64:212-9

Jeffries CD (1965) Effect of endotoxin on liver ascorbic acid of mice. J Bacteriol 89:922-3

Kleczkowski M, Kluciński W, Shaktur A, Sikora J (2005) Concentration of ascorbic acid in the blood of cows affected with mastitis. Bull Vet Inst Pulawy 49(2):203-5

Leppo E (1939) A- ja C-vitamiinien merkityksestä infektiotaudeissa [In Finnish with an English summary]. Duodecim 55:129-42

Lyman CM, King CG (1936) The effect of diphtheria toxin on the vitamin C content of guinea pig tissues. J Pharmacol Exp Ther 56:209-15

McKee RW, Geiman QM (1946) Studies on malarial parasites. Part V. Effects of ascorbic acid on malaria in monkeys. Proc Soc Exp Biol Med 63:313-5

Nyden SJ (1948) Changes in ascorbic acid metabolism of the rat during infection with Trypanosoma hippicum. Proc Soc Exp Biol Med 69:206-10

Pfitzenmeyer P, Guilland JC, d'Athis P (1997) Vitamin B6 and vitamin C status in elderly patients with infections during hospitalization. Ann Nutr Metab 41:344-52 PubMed

Pleiner J, Mittermayer F, Schaller G, et al. (2002) High doses of vitamin C reverse Escherichia coli endotoxin-induced hyporeactivity to acetylcholine in the human forearm. Circulation 106:1460-4

Pleiner J, Mittermayer F, Schaller G, et al. (2003) Inflammation-induced vasoconstrictor hyporeactivity is caused by oxidative stress. J Am Coll Cardiol 42:1656-62 * editorial: (2003);42:1663-5

Plit ML, Theron AJ, Fickl H, et al. (1998) Influence of antimicrobial chemotherapy and smoking status on the plasma concentrations of vitamin C, vitamin E, beta-carotene, acute phase reactants, iron and lipid peroxides in patients with pulmonary tuberculosis. Int J Tuberc Lung Dis 2:590-6

Rojas C, Cadenas S, Herrero A, et al. (1996) Endotoxin depletes ascorbate in the guinea pig heart: protective effects of vitamins C and E against oxidative stress. Life Sci 59:649-57

Sinha SN, Gupta SC, Bajaj AK, et al. (1984) A study of blood ascorbic acid in leprosy. Int J Lepr Other Mycobact Dis 52:159-62

Sweany HC, Clancy CL, Radford MH, Hunter V (1941) The body economy of vitamin C in health and disease with special reference to tuberculosis. JAMA 116:469-74 * see also: (1936);107:1225-6

Tanzer F, Özalp I (1993) Leucocyte ascorbic acid concentration and plasma ascorbic acid levels in children with various infections. Mater Med Pol 25:5-8 PubMed

Torrance CC (1940) Diphtherial intoxication and vitamin C content of the suprarenals of guinea pigs. J Biol Chem 132:575-84

Victor VM, Guayerbas N, de la Fuente M (2002) Changes in the antioxidant content of mononuclear leukocytes from mice with endotoxin-induced oxidative stress. Mol Cell Biochem 229:107-11

Weiss WP, Hogan JS, Smith KL (2004) Changes in vitamin C concentrations in plasma and milk from dairy cows after an intramammary infusion of Escherichia coli. J Dairy Sci 87:32-7

Yamaguchi T, Hashizume T, Tanaka M, et al. (1997) Bilirubin oxidation provoked by endotoxin treatment is suppressed by feeding ascorbic acid in a rat mutant unable to synthesize ascorbic acid. Eur J Biochem 245:233-40


Copyright: © 2006-2009 Harri Hemilä. This text is an open-access article distributed under the terms of the Creative Commons Attribution License, which permits unrestricted use, distribution, and reproduction in any medium, provided the original work is properly cited.





Vitamin C metabolism during infections

by

Harri Hemilä

is licensed under a Creative Commons Attribution 1.0 Finland License.
Based on a work at www.mv.helsinki.fi/home/hemila/metabolism.